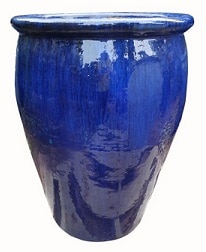 Want to transform your outdoor living space without having to do any construction? If you are looking for a simple way to make a big change, then you might consider adding glazed pots. If you need advice about using these pots in your living spaces, or want to know more about the options available to you, then you should reach out to Upper Coomera Landscape Supplies and let us show you our range.
Decorate your entrance
To make an impact as soon as people walk through your entrance, you can draw the eye into your living space using brightly coloured pots. These should be high enough to be able to display your plants to visitors as they come in, and we recommend a mix between flowering plants and bright pots in blues, reds or orange to create a powerful contrast.
Make your corner unique
If you have an outdoor living space that needs decorating, then you might want to consider turning one of the corners into an exhibition of pots which are glazed in several different colours. For example, matching throw pillows with bright containers, and then having the natural plants above will draw the eye upwards and make the whole space more interesting. The colours and styles that you choose with help from Upper Coomera Landscape Supplies will make your outdoor living space unique.
Transform bare walls
Outdoor living spaces can often have a lot of blank space which needs to be decorated or made somehow interesting. In the case of large blank walls, the need for colour and height in your pots can mean that you will need to pick out tall containers in a variety of different shades.
Make plants bloom on concrete
In order to make the best from small spaces that do not have much of anywhere to hide, you need to find containers that are not only bright and appealing, but that are also practical. With the help of these pots, you can make flowers and plants grow around your outdoor living space on flagstones or decking.
Get our help with fantastic glazed pots
When you are looking for the best glazed pots in your area, you should talk to Upper Coomera Landscape Supplies about our options, and how you can use them in your outdoor living spaces. Find out more about how we can help today by contacting us online or call us on 07-5549-3079 now.